A New, Improved Solution for Loss of Teeth in the Lower Jaw
posted: May 11, 2015.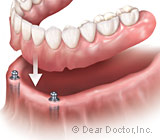 What does the term "two-implant overdentures" mean?
For more than a century, complete dentures were the only care option for edentulous (toothless) people. As a solution, these left a lot to be desired, particularly for the lower jaw. Now dental technology has developed a better alternative that combines two strategically placed dental implants and a traditional lower denture that has been modified to fit over the two implants — thus the term.
What are the problems with traditional dentures?
The problem is that when you lose teeth, the bone that supported the missing teeth begins to shrink away. This is known as resorption, and it is the reason that dentures fitted too soon after teeth are lost quickly become loose. Bone loss happens most rapidly during the first year and is four times greater in the lower jaw than in the upper.
Why not just use dental adhesives to hold dentures tightly to the lower jaw?
Zinc, a major ingredient in most dental adhesives, has been associated with neurological disorders and may be unsafe. In addition, dental adhesives are expensive and the cost of frequent usage adds up.
Besides dental adhesives, are other health problems associated with dentures?
Yes, edentulism has been related to poor nutrition. Many edentulous people switch to soft foods with high fat content because they find healthier foods like vegetables and proteins difficult to chew.
What are dental implants?
Dental implants are replacements for the roots of teeth, the parts that are below the gumline and anchored in bone. They are usually covered with a crown that shows above the line of the gums.
What are the benefits of implants?
Most importantly, implants reduce the amount of bone resorption. Studies have shown about 75% less resorption in parts of the jaw with implants compared to areas without them. Since most of the bone loss occurs within the first year after tooth loss, it is important to place implants within this time period.
Is a complete set of dental implants a good solution for edentulism?
Yes, it can be a good solution, but it is not for everyone. Some patients, who have lost a great deal of bone support, need another solution for cosmetic reasons that offer more facial support like an implant overdenture. In addition, depending on their resources and insurance, some people require a less expensive solution.
Why does the two-implant overdenture work better for the lower jaw?
Based on differences in bone volume, density and other factors, we think that four to six implants are needed to retain an upper implant overdenture. Thus a two-implant overdenture is a good solution to consider for a lower jaw, but other options might be preferred for an upper jaw.
Contact us today to schedule an appointment to discuss your questions about dentures and implants. You can also learn more by reading the Dear Doctor magazine article "Implant Overdentures for the Lower Jaw."
Tags: dental implants,&nbsp loose dentures,&nbsp overdenture