Posts for: June, 2018
By Vivian Medina, DDS
June 20, 2018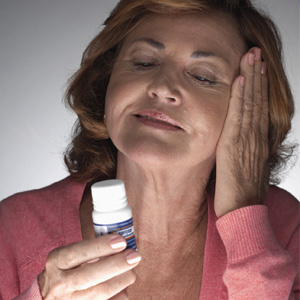 The old stereotype with the words "pain" and "dental work" in the same sentence is no more. Using local or general anesthesia (or a combination of both) we can completely eliminate the vast majority of discomfort during dental procedures.
But how do you manage pain in the days after a procedure while your mouth is healing? The news is good here as well — most discomfort after dental work can be easily managed with a family of medications known as non-steroidal anti-inflammatory drugs (NSAIDs). In most cases, you won't even need prescription strength.
You're probably already familiar with aspirin, ibuprofen and similar pain relievers for the occasional headache or muscle pain. These types of drugs work by blocking prostaglandins, which are released by injured tissues and cause inflammation. By reducing the inflammation, you also relieve pain.
Most healthcare providers prefer NSAIDs over steroids or opiates (like morphine), and only prescribe the latter when absolutely necessary. Unlike opiates in particular, NSAIDs won't impair consciousness and they're not habit-forming. And as a milder pain reliever, they have less impact on the body overall.
That doesn't mean, however, you don't have to be careful with them. These drugs have a tendency to thin blood and reduce its clotting ability (low-dose aspirin, in fact, is often used as a mild blood thinner for cardiovascular patients). Their use can contribute to bleeding that's difficult to stop. Excessive use of ibuprofen can also damage the kidneys.
That's why it's necessary to control the dosage and avoid long-term use of NSAIDs, unless advised by a physician. Most adults shouldn't take more than 2,400 milligrams a day of a NSAID and only during the few days of recuperation. There's no need to overdo it: a single 400-milligram dose of ibuprofen is safe and sufficient to control moderate to severe post-procedural pain for about five hours.
Our aim is to help you manage any pain after a procedure with the least amount of pain reliever strength necessary. That will ensure you'll navigate the short discomfort period after dental work safely and effectively.
If you would like more information on pain management after dental care, please contact us or schedule an appointment for a consultation. You can also learn more about this topic by reading the Dear Doctor magazine article "Treating Pain with Ibuprofen."
By Vivian Medina, DDS
June 10, 2018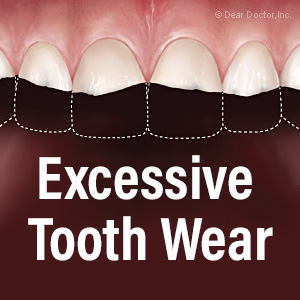 Just like other parts of your physical body, teeth naturally wear as we get older. Just the effect from chewing during hundreds of thousands of meals in a lifetime can take its toll.
But there are some factors that can make tooth wear worse. By addressing them promptly should they arise, you can keep age-related tooth wear to a minimum.
Here are 3 areas to watch for to avoid excessive tooth wear.
Dental disease. Tooth decay and periodontal (gum) disease are most responsible for not only the loss of teeth but for compromising tooth health overall. But the good news is they're largely preventable through proper oral hygiene practices to remove bacterial plaque, the main trigger for these diseases. Prompt treatment when they do occur can also minimize any damage and help your teeth and gums stay strong and healthy.
Your bite. Also known as occlusion, the bite refers to how the upper and lower teeth align with each other when you bite down. When they don't align properly, regular chewing and biting can create abnormally high forces in the teeth and cause them to wear unevenly and more rapidly. Correcting the bite through orthodontic treatment won't just improve your smile, it can improve bite function and decrease accelerated tooth wear.
Bruxism. This is a general term describing habits like teeth clenching and grinding in which the teeth forcefully contact each other beyond normal parameters. There are a number of causes for bruxism, but for adults it's typically related to stress. Over time, bruxism can accelerate tooth wear and cause other problems like TMD. There are a number of ways to stop or at least reduce the effects of bruxism like relaxation techniques or a night guard worn during sleep that prevents the teeth from making forceful contact.
If you suspect you're experiencing any of these factors, see us for a full examination. We'll then be able to discuss your condition, the potential impact on tooth wear, and what we can do to protect your teeth.
If you would like more information on protecting your teeth as you age, please contact us or schedule an appointment for a consultation. You can also learn more about this topic by reading the Dear Doctor magazine article "How and Why Teeth Wear."