Posts for: May, 2017
By Vivian Medina, DDS
May 22, 2017
Are bleeding gums something you should be concerned about? Dear Doctor magazine recently posed that question to Dr. Travis Stork, an emergency room physician and host of the syndicated TV show The Doctors. He answered with two questions of his own: "If you started bleeding from your eyeball, would you seek medical attention?" Needless to say, most everyone would. "So," he asked, "why is it that when we bleed all the time when we floss that we think it's no big deal?" As it turns out, that's an excellent question — and one that's often misunderstood.
First of all, let's clarify what we mean by "bleeding all the time." As many as 90 percent of people occasionally experience bleeding gums when they clean their teeth — particularly if they don't do it often, or are just starting a flossing routine. But if your gums bleed regularly when you brush or floss, it almost certainly means there's a problem. Many think bleeding gums is a sign they are brushing too hard; this is possible, but unlikely. It's much more probable that irritated and bleeding gums are a sign of periodontal (gum) disease.
How common is this malady? According to the U.S. Centers for Disease Control, nearly half of all  Americans over age 30 have mild, moderate or severe gum disease — and that number increases to 70.1 percent for those over 65! Periodontal disease can occur when a bacteria-rich biofilm in the mouth (also called plaque) is allowed to build up on tooth and gum surfaces. Plaque causes the gums to become inflamed, as the immune system responds to the bacteria. Eventually, this can cause gum tissue to pull away from the teeth, forming bacteria-filled "pockets" under the gum surface. If left untreated, it can lead to more serious infection, and even tooth loss.
What should you do if your gums bleed regularly when brushing or flossing? The first step is to come in for a thorough examination. In combination with a regular oral exam (and possibly x-rays or other diagnostic tests), a simple (and painless) instrument called a periodontal probe can be used to determine how far any periodontal disease may have progressed. Armed with this information, we can determine the most effective way to fight the battle against gum disease.
Above all, don't wait too long to come in for an exam! As Dr. Stork notes, bleeding gums are "a sign that things aren't quite right." Â If you would like more information about bleeding gums, please contact us or schedule an appointment. You can read more in the Dear Doctor magazine article "Bleeding Gums." You can read the entire interview with Dr. Travis Stork in Dear Doctor magazine.
By Vivian Medina, DDS
May 14, 2017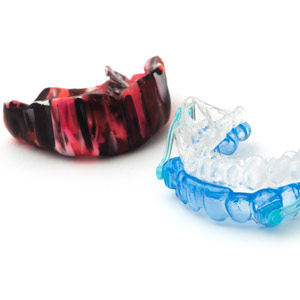 When he isn't among the ten players vying for position on the basketball court, Cole Aldrich of the New York Knicks sometimes lets his dangle behind one ear. Mason Plumlee, who plays for the Brooklyn Nets, slips his snugly inside one of his socks during off times. Other players can be seen at timeouts gnawing on them nervously, or tucking them into spandex waistbands. But when the whistle blows, they go into the mouth before the players get on the court.
We're talking about protective mouthguards, of course. According to a recent story in the New York Times, only a handful of basketball players wore them regularly a few years ago. Today, more and more are wearing them, both in practice and during games. What's the reason for the change?
Partly, it's the result of better design and improved construction; today's mouthguards are more comfortable and better-fitting than ever. Part of it comes from mounting evidence that they work: Research studies have consistently demonstrated the benefits of wearing a mouthguard — not only to protect the teeth, but also to reduce the risk of concussion. And partly, it stems from the growing acceptance that safety is an important aspect of all athletic activity.
If the pros are doing it — shouldn't you be too? While you may think that only contact sports (such as football) are risky, the fact is that "non-contact" sports like baseball and basketball account for the majority of dental injuries. In fact, the American Dental Association recommends you wear a mouthguard when you participate in activities like handball, soccer, surfing and weight lifting — as well as boxing, skydiving, martial arts and "extreme sports" — whatever that may mean to you.
What's the best kind of mouthguard? It's the one that you actually wear, of course! And the most comfortable and best-fitting mouthguard is the one that's custom-made for you by your dentist. Sure, you can pick up an off-the-shelf mouthguard at a big box store; but it can't offer you the same level of protection and comfort you'll get from a mouthguard that is made from a model of your own teeth. Custom-made mouthguards from your dentist are reasonably priced — and by preventing dental trauma, they can save an untold amount of hurt… both to your body and to your pocketbook.
So take a tip from the pros: Get a custom-made mouthguard, and wear it every time you play. But when you're done playing… how about putting it away in a case?
If you would like more information about custom-made athletic mouthguards, please contact us or schedule an appointment for a consultation. You can learn more by reading the Dear Doctor magazine articles "An Introduction to Sports Injuries & Dentistry" and "Athletic Mouthguards."