Posts for: February, 2016
By Vivian Medina, DDS
February 24, 2016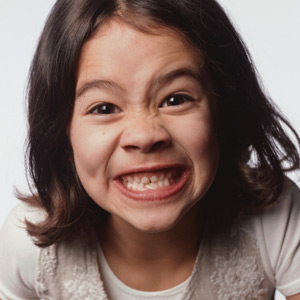 It can be alarming to be awakened in the middle of the night by a screeching, gritting sound coming from your child's bedroom. No, it's not a scene from a horror movie: it's your child grinding their teeth as they sleep — a behavior so prevalent in children under eleven it's considered normal.
That doesn't mean, however, you should completely ignore it. While it isn't harmful for most children, a few can encounter tooth wear, pain or trouble sleeping that calls for some form of intervention.
The causes for tooth grinding and similar habits known collectively as bruxism aren't thoroughly understood, but in children it's believed linked to the immaturity of the neuromuscular system that controls chewing. Some point to shifts from one stage of sleep to another — more than 80% of grinding episodes occur in lighter stages of sleep and only 5% to 10% during the deeper Rapid-Eye-Movement (REM) stage. It also seems prevalent in children who snore or have other symptoms of sleep apnea.
One primary concern is how the behavior can affect teeth, particularly through abnormal wear. The teeth, of course, make hundreds of contacts with each other every day during eating, speaking or jaw movement. If, however, the forces generated during these contacts chronically exceed normal parameters, as with bruxism, it can cause accelerated tooth wear. This can result in a higher susceptibility to tooth decay and appearance changes later in life.
If your child is exhibiting problems associated with teeth grinding, there are ways to address it. We may recommend a thin, plastic mouthguard they wear while sleeping that prevents the teeth from making solid contact with each other. We may also refer you to an ear, nose and throat specialist if we suspect signs of sleep apnea. And, children under severe psychological stress, which can also trigger teeth grinding, could benefit from behavioral therapy.
The good news is most grinding habits fade as children enter their teens. In the meantime, keep a watchful eye and see us if you notice any indications this common habit is affecting their health and well-being.
If you would like more information on teeth grinding habits, please contact us or schedule an appointment for a consultation. You can also learn more about this topic by reading the Dear Doctor magazine article "When Children Grind Their Teeth."
By Vivian Medina, DDS
February 09, 2016
As a member of the best-selling pop group Spice Girls, Mel C (AKA Sporty Spice) enjoyed her share of musical superstardom. At the band's peak in the Nineties, the young singer's signature look featured baggy sweatpants, an assortment of tattoos, a nose stud and a gold-capped incisor, front and center in her mouth. Today, Melanie Chisholm is still singing — but now she's a mom, an amateur triathlete… and that gold tooth is just a memory. Not only that, her smile looks more evenly spaced and whiter than it did when she was referred to as the "tomboy" of the group.
What happened? In our view, it all boils down to changing tastes — plus a little bit of help from dental professionals. As the "wannabe" singer proves, there's no single standard when it comes to making your teeth look their best. Your own look is unique to you — and your smile can reflect that individuality.
For example, crowns (caps) are substantial coverings that may be placed on teeth when they are being restored. They are available in three types: gold, all-porcelain, or porcelain-fused-to-metal. The latter two are tooth-colored, while the gold is — well, shiny like gold bling. Which one is right for you? In many cases, it's your choice.
Likewise, dental veneers — wafer-thin shells that can correct cosmetic issues by covering the surface of your teeth — can be made in a variety of shades. Their hues may range from natural ivory to Hollywood white, and everything in between. What's the best color for you? Only you can say.
Some people opt for a "smile makeover" that uses small irregularities in the spacing and color of teeth to create a more "natural" look. Other folks want a perfectly even, brilliant white smile that dazzles the eye. Still others are looking to match or restore the smile they once had — perhaps even re-creating a signature gap between the teeth. As long as there are no other dental issues involved, the choice is yours.
So if you're unhappy with your smile — or if you feel it doesn't reflect the person you "wannabe" — why not talk to us about a smile makeover? Just call our office to schedule a consultation. You can learn more about this topic in the Dear Doctor magazine articles "Beautiful Smiles by Design" and "The Impact of a Smile Makeover."