Posts for: July, 2014
By Vivian Medina, DDS
July 17, 2014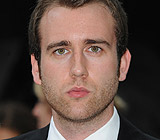 Remember Matthew Lewis? You've seen him in all of the Harry Potter movies, where he played the bumbling Neville Longbottom: a pudgy, teenage wizard-in-training whose teeth could best be described as... dodgy. We won't spoil the movie by telling you what happens to him in the end — but in real life, let's just say his awkward phase is over. Today, he looks more like a young Ryan Gosling. How did this transformation happen?
Well, in part it was some "Hollywood magic" that made his teeth look worse in the films than they really were. But Lewis acknowledges that he also had cosmetic dental work performed. If you've ever considered getting a smile makeover yourself, you may wonder: What kinds of "dental magic" might it take to change an awkward grin into a red-carpet smile? Here are a few of the treatments we might utilize.
Orthodontics
It's possible to correct tooth crowding, protrusion, gaps between teeth, and many other bite problems with orthodontic appliances like braces or clear aligners. While some may think orthodontics is just for teens, that isn't so — you're never too old to get the smile you've always wanted! In fact, right now about one in five orthodontic patients is an adult.
Teeth Whitening
This is a popular (and surprisingly affordable) option that can effectively lighten your teeth by six shades or more. We can do in-office whitening for the fastest results, or prepare a take-home whitening kit with a custom-made tray to fit your teeth perfectly and a supply of the proper bleaching solution. How well it will work for you (and how long it will last) depends on various factors, including the original cause of the discoloration, and your preferences for foods and beverages (such as coffee or red wine) that may cause stains.
Porcelain Veneers
Sometimes, even professional bleaching isn't enough to get the kind of permanent, "Hollywood white" smile you'd like; that's where porcelain veneers come in. By placing a fingernail-thin layer of ceramic over the tooth's enamel, veneers offer a permanent, pearly white finish that looks just like your natural teeth — only more dazzling! Veneers, long the first choice of celebrities, are gaining popularity with plenty of "regular" folks.
Tooth Restorations
This category covers a wide variety of different methods and materials — like cosmetic bonding, crowns, bridges, and dental implants — which we use to repair or replace teeth that are damaged or missing. Beginning with the simple repair of small chips or cracks with tooth-colored resins, we can progress to more permanent crown restorations when more of the tooth structure needs replacement. To restore missing teeth, we have the option of using the tried-and-true bridge — or, the current gold standard in tooth replacement: the lifelike, permanent dental implant.
Of course, this is just a bare outline of the many tools and techniques cosmetic dentistry offers. We would be happy to talk with you about which ones are right in your individual situation. Will a smile makeover land you a red-carpet role? Maybe... but one thing is for sure: It will help you get the smile you've always wanted.
If you would like more information about smile makeovers and options in cosmetic dentistry, please contact us or schedule an appointment for a consultation. You can learn more by reading the Dear Doctor magazine articles "Cosmetic Dentistry," "Porcelain Crowns & Veneers," and "Dental Implants."
By Vivian Medina, DDS
July 02, 2014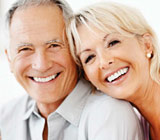 Edentulism — the complete loss of all the permanent teeth — is a condition that affects over one-quarter of all Americans over the age of 65. For many seniors, it can be a devastating blow to their confidence and self-image. Worse, if left untreated, it may lead to nutritional problems, periodontal disease, and bone loss.
Fortunately, an affordable, time-tested treatment option is available: full denture prosthetics, or false teeth. Denture technology has changed over time, but one aspect of the process remains the same: making a superior set of dentures requires an equal blend of science and art.
To replicate the look of a patient's natural teeth, a dentist must make many choices: What size should the new teeth be? How much of them should show above the gum line? How should they be spaced? Photographs of the patient before tooth loss can help in making the decisions. We will use these, combined with clinical acumen and an artist's eye, to achieve the best aesthetic results.
But dentures not only simulate the teeth and gums they replace — they also help support the facial skeleton and the soft tissues of the lips and cheeks. Balancing the muscular forces of the jaws and tongue, they help restore natural functions like speech and eating. In order to perform these tasks properly, it is essential that they be well crafted.
At each stage of their progress, from temporary wax rims through the hard plastic resins of the final product, the dentures are carefully custom-fitted to the contours of the patient's mouth. Their bite must be balanced, meaning that upper and lower dentures come together to properly stabilize each other. This ensures that they will be comfortable to wear and will function properly.
Most people have only minor issues as they make the adjustment to wearing dentures; but for some, it's more troublesome. There are various options available to those patients, including implant-supported hybrid dentures. We can recommend alternatives based on your individual needs and preferences.
If you would like more information about dentures, please contact us or schedule an appointment for a consultation. You can also learn more about this topic by reading the Dear Doctor magazine article "Removable Full Dentures."